Alex Salmond 'misled public' over EU status claim
"Alex Salmond misled the public that an independent Scotland would automatically inherit UK's EU membership, it has been alleged."
The rules of membership of the EU are that a new member state has to be 'voted in' by the current member states. There is no automatic right of entry and no precedent for such a proposition.The EU Treaty would require alteration to make room for Scotland's representation and this in turn requires the consent of all Member States.
Certain conditions have to be met and Scotland could meet those conditions, but it could take up to 10 years before acceptance is complete.
The UK membership of the EU includes Scotland, but Scotland is not recognised in it's own right within the EU [ I assume that's why Scotland is planning a referendum ]. This means a new application would have to be made by the Scottish Government unless a new rule is created.
Political effects of an independent Scotland
The politics may or may not work in Scotland's favour. Accession to the EU requires unanimity. Germany, France, Italy and Spain are the big players of Europe and would be anxious to avoid separating their states. Some commentators cannot imagine that they would watch Scottish independence without any form of resistance. According to Professor Clive Archer from the University Association for Contemporary European Studies, such idleness would
"defy both logical and politics".
The implication is that Catalonia, Lombardy, Corsica, Brittany, Flemish Belgium and even Bavaria would be casting a keen eye on Scotland, acutely observing the follow-on improvements and drawbacks that are significant not least for their own regions.

Alyn Smith (Greens/EFA) and Derek Clark (EFD) want to reclaim the sovereignty of their country, but in different ways. Would independence affect jobs and influence?
Terms of Admission
If Scotland found itself outside the European Union after independence and had to negotiate its re-admittance, on what terms it might be re-admitted?
Scotland would probably lose its share of the budget rebate. In 1984, Prime Minister Margaret Thatcher negotiated a special discount on a budget contribution worth £2bn per year and the UK has held onto that ever since. In July 2000, Foreign Secretary Robin Cook told business leaders in Edinburgh that he did
"not for one moment believe that other countries of the European Union would allow [an independent] Scotland to retain the budget rebate from which taxpayers in Scotland benefit".
At the Berlin summit in March 1999 the Labour government refused to negotiate the rebate even though the planned changes in contributions would have given the United Kingdom a respectful amount of money.
European Structural Funds
Areas in the EU with lower than average income are eligible for EU aid, which is known as "Structural Funds"
Along with local and regional governments, the EU co-funds development projects, such as community learning centres
Regional aid aims to increase employment and raise the standard of living
The SNP has claimed that Scotland does not receive the amount of EU funds from the UK Government which is due.
Map of UK assisted areas 2007-2013
Guidelines Regional Structural Funding
The question is would Scotland be better off as an independent country when in receipt of the Structural Funds other than those allocated by the United Kingdom Government.
The European Committee of the Scottish Parliament considered this fact in 2000.
The European Committee Report PDF version
The Structural Funds are a cornerstone of EU support for those areas suffering from high unemployment figures and undergoing regeneration. The Structural Funds are made up of four separate parts.
the European Regional Development Fund (ERDF)
the European Social Fund (ESF)
the European Agricultural Guidance and Guarantee Fund (EAGGF)
the Financial Instrument for Fisheries Guidance (FIFG)
Scotland has been in receipt of EU funding since the Structural Funds were set up in 1975. Until 1988 no specific funds were set aside for Scotland. The European Commission approved individual projects on a case-by-case basis.
Getting to the point
The European Committee of the Scottish Parliament concluded that the allocation process by the UK is "relatively transparent and objective", and that (as far as it can tell) Scotland receives "an appropriate share of the Structural Funds allocated to the UK by the EU".
"In autumn 2011, the Committee agreed to conduct an inquiry into the perceived strengths and weaknesses of the current EU structural fund programmes (2007 – 2013), with a view to understanding how to improve outcomes for Scotland in the 2014 – 2020 funding round.

EU Structural Funds are a series of financial tools set up with the explicit purpose of reducing regional disparities across the EU in terms of income, wealth and opportunity."
The process of negotiation is unlikely to be easy. Evidence from other candidate countries suggests that the EU uses its pre-accession bargaining strength to extract the maximum concessions from acceding parties.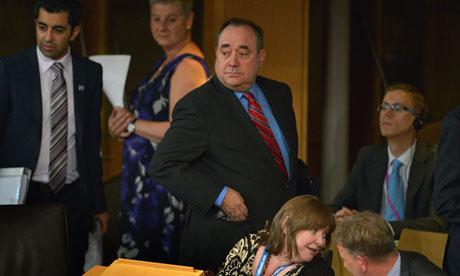 Alex Salmond has been accused by opposition parties of misleading Scots over legal advice about EU membership. Photograph: Jeff J Mitchell/Getty Images
Alex Salmond's chaotic attempts to persuade voters he could take an independent Scotland smoothly into the European Union have suffered another setback, after Spain said Scotland would need to "join the queue" and negotiate as a new member state.
Foreign minister José Manuel García-Margallo told the Spanish senate on Tuesday that an independent Scotland would have to go through a potentially long negotiating process and win the support of all 27 members, including Spain – directly contradicting Salmond's position on EU membership.
"In the hypothetical case of independence, Scotland would have to join the queue and ask to be admitted, needing the unanimous approval of all member states to obtain the status of a candidate country … and to sign the final treaty [of accession]," García-Margallo said.
Intensifying the pressure on Salmond, the Spanish foreign minister said Scotland would also need member states to scrutinise its legislation before approving the 35 separate chapters that have to be negotiated before a new member is admitted.
In September, the European commission president, José Manuel Barroso, also suggested that an independent Scotland would be seen as a new state, and would need to apply to join.
García-Margallo did not say whether Spain might block Scottish EU membership, but his right wing People's party government is currently fighting a battle to prevent Catalonia, a wealthy region with significant levels of autonomy, from calling its own independence referendum. Last weekend, Basque nationalist and separatist parties won two-thirds of the seats in its regional assembly, intensifying pressure on Madrid to cede more powers. It now appears the Spanish government's dispute with its own independence movements has led to a hardening stance on Scotland.
García-Margallo's intervention is another significant setback to Salmond, who has endured bruising allegations from opponents and the Scottish press over whether he had lied about receiving formal legal advice from government law officers on EU membership.
Until now, Salmond and his ministers have regarded García-Margallo as a significant ally in their efforts to show that an independent Scotland would be able to freely and smoothly inherit EU membership. They have frequently cited his remarks in January this year, when García-Margallo indicated Spain was neutral about Scotland's future membership.
At the time, García-Margallo said it was "an internal subject which will be resolved within the British constitutional framework, which has nothing to do with the Spanish constitutional framework … they are completely different processes".
Salmond's difficulties escalated dramatically on Tuesday when it emerged his government had never asked for or received any advice from its law officers on whether an independent Scotland would automatically join the EU, after months of hints and apparent confirmation that such advice had been given.
His deputy, Nicola Sturgeon, shocked opposition parties by disclosing the advice had only just been requested, after the Edinburgh agreement setting up the independence referendum was signed by Salmond and David Cameron last week.
The Scottish government has also gone to Scotland's highest civil court seeking to overturn an order from the Scottish information commissioner, Rosemary Agnew, that it should disclose that advice. That legal challenge – due to be heard in December – has now been dropped.
Salmond angrily denied on Tuesday that he had lied in an interview with Andrew Neil on BBC1 earlier this year, when he appeared to confirm his law officers had supported his case that an independent Scotland would join the EU automatically, would not need to join the euro and would inherit the UK's opt-outs on border security, immigration and financial treaty requirements. Salmond insisted he had been speaking in general terms in his BBC interview.
After headlines and leader columns accused Salmond bluntly of "lying", the pressure intensified on Wednesday when the Scottish Tory leader, Ruth Davidson, asked for Scotland's chief law officer – the lord advocate, Frank Mulholland – to appear before the Scottish parliament.
During prime minister's questions in the Commons on Wednesday, Cameron said the situation was "truly baffling" and raised substantial questions about Salmond's assurances on the impact of independence.
"It turns out now they didn't have any legal advice at all and I think what this shows is when you shine the spotlight on the case for separation the SNP put, it completely falls apart," Cameron said.
A Scottish government spokeswoman said García-Margallo's latest remarks had been "overtaken by events" because there was now a deal between the governments to set up the independence referendum. That document, however, makes no mention of EU membership. "As Mr García-Margallo himself said earlier this year, this is an internal matter to be resolved within the UK – and we now have that clear agreement on the process," she said.
She implied the Spanish foreign minister's latest remarks were wrong: "Scotland will inherit exactly the same international treaty rights and obligations as the rest of the UK, as equal successor states.
"Scotland has been an integral part of the European Union for almost four decades, so an independent Scotland will continue in EU membership – and by definition Scotland already meets the criteria for EU membership, as acknowledged recently by an expert report."